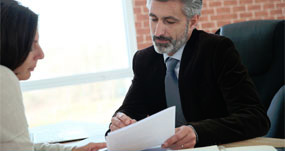 The Community Legal Clinic – Medicine Hat offers free and confidential legal advice at our evening clinics to individuals in a low income financial bracket and do not qualify for Legal Aid. In particular, we provide services to individuals with legal issues in:
Family Law
Employment
Debt and Foreclosure
Estate Administration
Estate/Life Planning
Immigration
Landlord and Tenant
Civil Matters
Who Qualifies for Service?
The Community Legal Clinic – Medicine Hat uses a set of income guidelines to determine whether you are able to qualify for our assistance. Clients who do not qualify for Legal Aid and who are low income may be eligible.
We may be able to help you:
Understand legislation
Obtain information
Prepare for court hearings
Discuss your rights and obligations
Preparing For Clinic Appointments:
Clinic appointments are 30 minutes long. You will want to be prepared for your appointment as best as you can so you can use the time you have with your lawyer to answer all of the questions you may have. 
Here are some things to do before coming to an appointment:
Organize and bring any important papers including court document or letters
Make child care arrangements prior to coming and if possible do not bring children to the appointment
Be as honest and open during your meeting with the lawyer as possible. Our lawyers are here to help you, not judge you or your situation. Any information that you are not telling them could in fact hurt your case. All information is completely confidential and will not be shared outside of the organization.
Please Note:
A clinic appointment does not guarantee that The Community Legal Clinic will be able to provide additional or in-house legal services; and
Filing fees, disbursements and other costs are not covered by The Community Legal Clinic – Medicine Hat.
Please call The Community Legal Clinic – Medicine Hat at 403-712-1021 to learn more or to book an appointment. Link here to view the calendar that shows the up and coming outreach clinic dates, times and locations.